Viofo A139 Pro Full Review
Here is our full review on the Viofo A139 Pro Dash Cam.
Dash Cam Options
There are 4 different ways you can get the Viofo A139 Pro dash cam.
Sony STARVIS 2 Technology
Being the first to deploy the newest Sony STARVIS 2 tech, A139 Pro is powerful enough to outbeat most 4K dashcam competitors with immensely upgraded image clarity and accuracy in license capturing. Sony latest technology STARVIS 2 IMX 678 image sensor, type 1/1.8'', offers a wider dynamic range in a single exposure than the STARVIS pixel of the same size, bringing much less noise and motion blur during day & night recording.
A little bit of history on Viofo Dash Cams. The Viofo A129 Pro uses a Sony EXMOR sensor up front and a Sony STARVIS rear camera. While, the Viofo A229 uses a Sony STARVIS image sensor front and back. Last but not least the A139 Pro uses a 4K Sony STARVIS 2 image sensor and a rear STARVIS.

Here are the options for various configurations of the Viofo A139 Pro
4K 2160P / 1600P 30fps
2K 1440P 30 / 60fps
2 Channel / Front + Rear / Front and Interior
4K 2160P / 1600P 30fps +1080P 30fps
2K 1440P 30 / 60fps +1080P 30fps
3 Channel / Front + Rear + Interior
4K 2160P 24fps +1080P 24fps + 1080P 24fps
4K 1600P 30fps +1080P 30fps + 1080P 30fps
2K 1440P 30fps +1080P 30fps + 1080p 30 fps
Dash Cam Layout of Viofo A139 Pro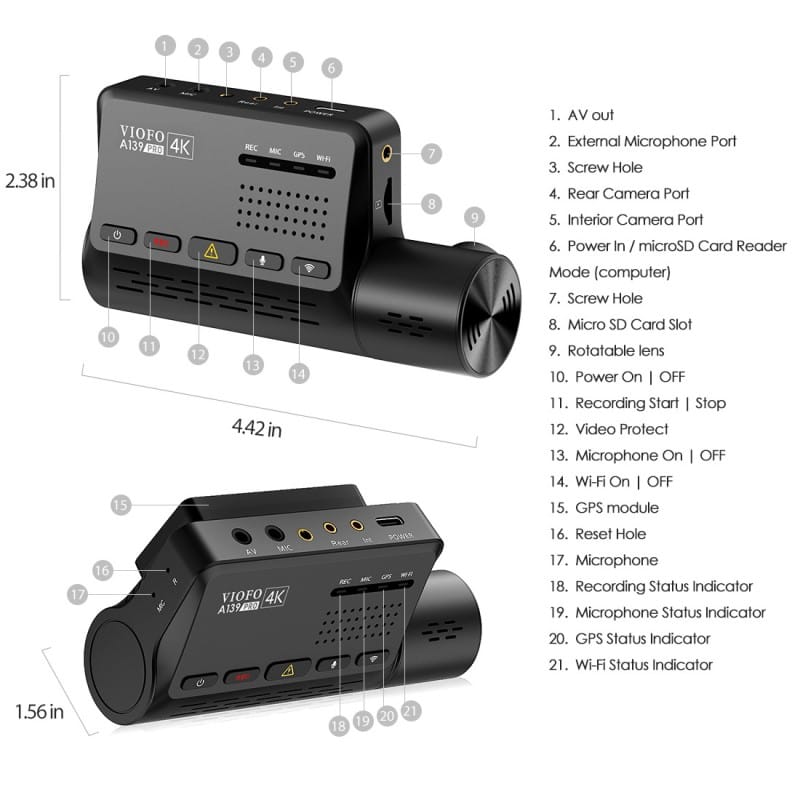 Bitrate
You can set the bitrate for video. High bitrate improve the quality or smoothness of the video especially when recording fast motion or high contrast scenes. Using high bitrate mode may decrease the amount of recording time available on your memory card. Using a low bitrate will save space and record for longer time. Therefore, you can change the bitrate from low, normal, high or maximum on the A139 Pro dash camera. I typically run it on high or maximum frequently. I would recommend the same to everyone else for best quality.
Viewing Angle
The A139 Pro has a front viewing angle of 140 degrees, a rear viewing angle of 170 degrees and an interior viewing angle of 170 degrees. Depending on the configuration will depend on what viewing angles you have available.
Licence Plate Identification
When driving with traffic, I do find it to be the best out of any other dash camera that I have tested on the market. Furthermore, for picking up licence plates during the day or at night which you can see in our example video below. However, picking up licence plates to oncoming traffic still suffers motion blur on the license plate quite frequently. This is still the hardest obstacle for the dash cam technology available. Hopefully we will see some upgrades to firmware of the unit to dial it in over the next little while.
I also seen when driving through a tunnel when raining there are a lot of different contrast levels. There are far too many reflections for it to consistently pick up license plates. Certainly, you will not be driving through tunnels in a rainstorm everyday. But these are some of the challenges that still exist. However, from what i have seen in terms of performance. This is by far the best dash camera for picking up license plates.
High Dynamic Range
The Viofo A139 pro has high dynamic range. HIGH DYNAMIC RANGE also known as HDR enables the camera to deliver video with near-perfect exposure in varying lighting situations. It can enhance video quality, especially when it comes to the issue of the front license plate being overexposed at night.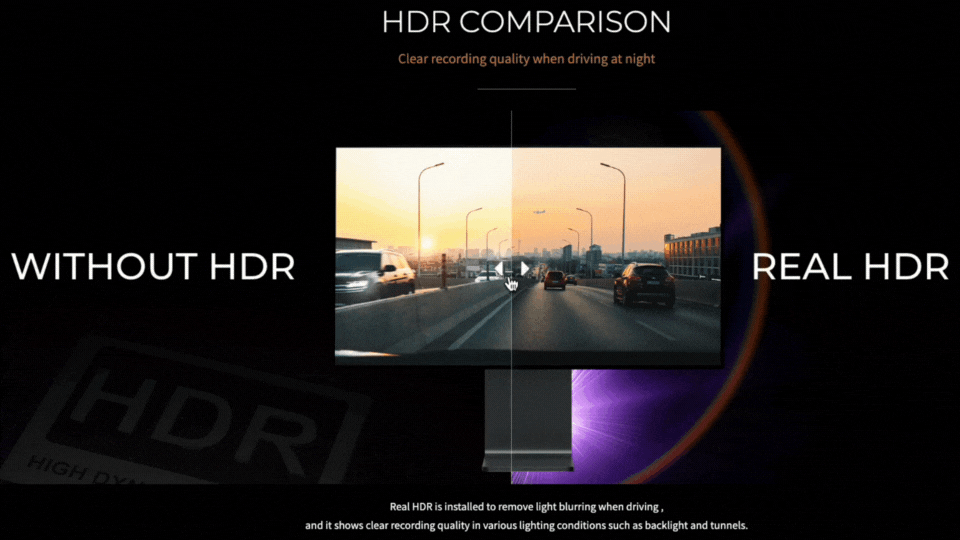 G-sensor
The G-sensor measures shock forces and locks the video recorded at the time. The settings from "low to high" determine the amount of force needed. Depending on your settings you can set the dash cam up to lock the video file recordings. There are different settings for parking mode, and while you are driving.
Wi-Fi
So, the Viofo A139 Pro has the option of 2.4GHz or 5GHz Wi-Fi. They also have an Android and IOS app so you can connect to the phone, download videos and change settings. Furthermore, if you use the 5GHz setting it will allow you to download videos 3-4 times faster then the 2.4GHz setting.
SD Card Capacity
The Viofo dash camera supports up to 512gb micro SD card as long as it is high endurance or a Viofo SD card.
GPS Antenna
The Viofo A139 Pro has the GPS antenna built into the dock that the dash camera slides into. This will give you information such as GPS speed and location which will be embedded into the video. If you do not want that information showing up on your video, you can also turn it off.
Parking Mode
Auto Event Detection-Automatically record when detecting moving objects or impact while car is parked
Time Lapse- Video is recorded at a low frame per second from 1, 2, 3,5, or 10
Low bitrate recording – You can lower resolution to save space while recording
Parking Mode Cable / Low Battery Protection
In order to use Parking mode you must hook up constant power, ignition and ground. You must also use the selector switch on the cable to select you low battery cutoff. Therefore, you have the options of 11.8,12,12.2, or 12.4 volts. What this means for you is if the car battery drops below that set voltage, the dash camera will shut off to protect the battery of your car.
Above all, the Viofo A139 Pro offers the options of 1,2,3,5, or 10 minute video loop recordings.
File List Organization
Viofo organizes their files into 3 folders.
All – All video files
Locked Files – Impacts, or manual recording / emergency recording button recordings
Parking Files – Incidents that happen while parked
Cable Sizes
Part of our Viofo A139 Pro review is how big the cables are in size. What I really love about the A139 Pro is it uses a very small cable for rear camera. When comparing the cable size from an A129 Pro to the A139 Pro. The cable size is 5mm in thickness while the A139 Pro uses a 2.8mm. This makes it easier for technicians during installation or do it yourselfers.
Pro's and Con's
Pro's
High Dynamic Range
Support up to 512 GB SD card
Night Vision
Sony STARVIS 2 image sensor
Best Dash Cam I have tested for license plates
Small rear camera cable
Con's
1080P rear camera
File organization
No app controlled low battery protection
No LCD screen
Comparison Video
Viofo A139 Pro Review Final Thoughts
Overall, this is a new very exciting product with a lot of firsts in terms of the new Sony STARVIS 2 image sensor. There will be other brand new dash cameras coming out with some of the same tech over the next year it is exciting to see how well this unit works. I know personally I use this unit in my car as of late. If you have any questions please email us info@safedrivesolutions.com