Best 4K Dash Cam
Which is the best 4K Dash Cam for you? Viofo A139 Pro vs Thinkware U1000 vs Viofo A129 Pro.  We're gonna compare these 3 units as well as have comparison video of driving through a tunnel, driving at night, and driving through the day. Also how well all of these units do at picking up license plates.
Dash Cam Resolution
Viofo A139 Pro has a front Sony STARVIS 2 4K image sensor and a rear Sony STARVIS 1080p image sensor
Thinkware U1000 uses a front 4K Sony STARVIS image sensor and a rear 1440P Sony STARVIS image sensor
Viofo A129 Pro uses a front 4K Sony EXMOR image sensor and a rear 1080p Sony STARVIS image sensor
Therefore, you can also change all 3 of these units front camera from 4K resolution 30 frames per second to 2K 1440p resolution at 60 frames per second. As a result, means it will take up to 60 pictures per second.

Viewing Angle
Viofo A139 Pro has a front 140 degree wide viewing angle and a rear 170 degree viewing angle
Thinkware U1000 has 150 degree wide viewing angle and rear 156 degree wide viewing angle
Viofo A129 Pro has a 130 degree front viewing angle and rear 140 degree viewing angle making it have the least coverage
High Dynamic Range
The VIofo A129 and Thinkware U1000 do not have high dynamic range. However, they do have WDR(Wide Dynamic Range). Wide Dynamic Range processes images to ensure clear recordings in bright and dark light. This allows the dash camera to combine multiple images at different levels of brightness to create one superior image.
The Viofo A139 Pro has High Dynamic Range (HDR). Furthermore, this is the second 4K camera that I have seen on the market that actually has high dynamic range in a 4K resolution. The HDR enables the camera to deliver video with near perfect exposure in varying lighting situations. It can enhance video quality especially when it comes to the issue of front license plate being overexposed at night. Making this units one of the best 4K dash cam available.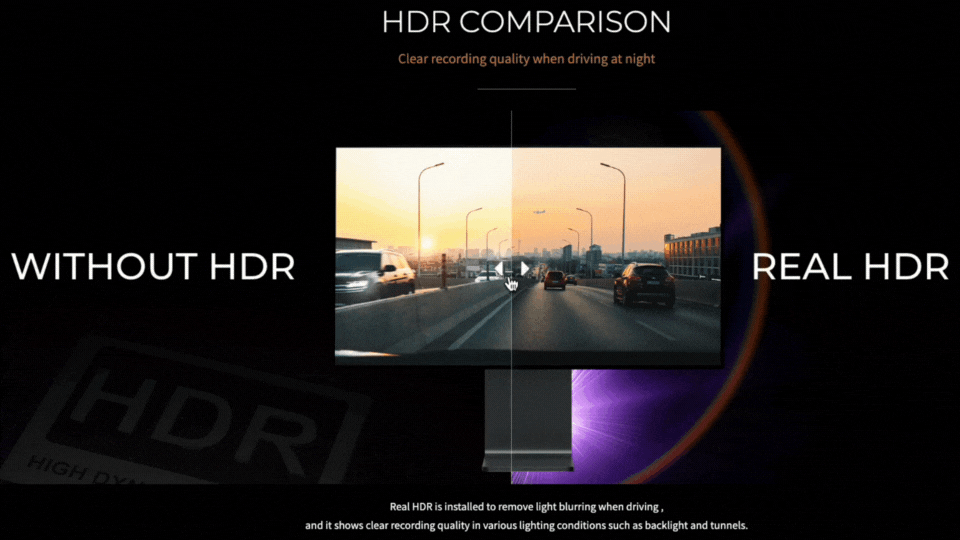 Wi-Fi capability
So, all three of these cameras support 2GHz and 5GHz Wi-Fi. If you change these dash cameras to 5GHz Wi-Fi it will actually download videos 3-4 times faster than 2GHz. All of these units also support android and IOS apps. So that you can pair your phone and download videos directly to your phone.
SD Card Capacity
The Viofo A129 Pro and Viofo A139 Pro support up to a 256GB micro SD card
The Thinkware U1000 supports up to a 128GB micro SD card
If you are looking to upgrade your micro SD card I do recommend checking out our YouTube video or reading our Blog.
GPS Antenna
So, for all three units the GPS antenna is built directly into the unit. For VIOFO it will actually supply you speed and location data of where the video was recorded. Thinkware you will get the capability of red light and speed camera notifications as well as speed and GPS location. You can also choose to turn off the GPS speed, for Thinkware and VIOFO in case you have a heavy foot.
Parking Mode
Both the Viofo A139 Pro and the Viofo A129 Pro have three parking mode option. Above all, we see no difference in parking mode options between the 2 units.
They both offer Auto Event Detection, which automatically records when detecting motion or impact. Time Lapse mode means the video is recording at a low frame per second. Particularly, it will record in 1,2,3,5, or 10 frames per second. Lastly, it offers low bitrate recording which will lower the resolution to save space on SD card.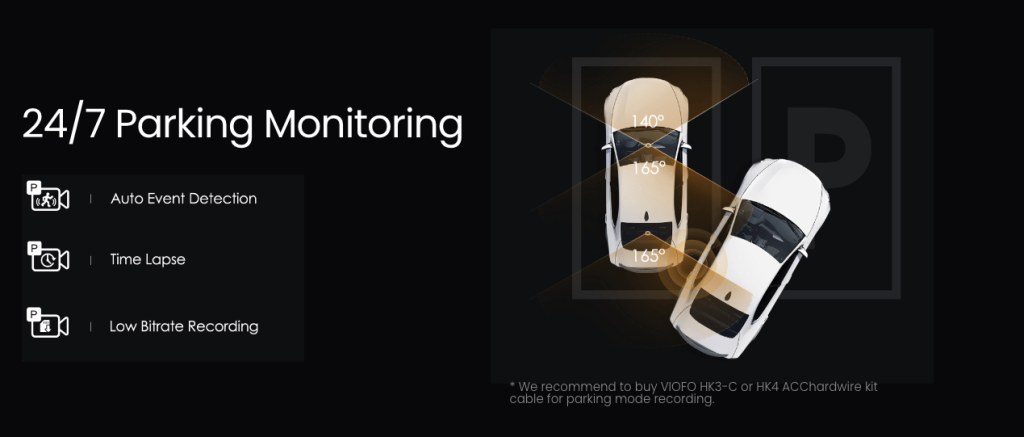 The Thinkware U1000 has four available parking modes. They have
Motion Detection, which means anytime somebody walks by, or drives by it will actually wake up and record.
Time Lapse, which means it will record at 2 frames per second
Energy Saving Mode, this draws really low current and will last for a very long time in parking mode. So how this works is if you get hit while parked 1 second after impact, it will wake up and start recording and save it into a separate video file.
Energy Saving Mode with Radar Module, the radar module is an extra part. What it does is it detects movement coming towards the vehicle, and as it detects the movement coming towards the vehicle, it will wake up and start recording. If there is no impact to the vehicle it will actually delete the recording and go right back to sleep.
Parking Mode Cable and Low Battery Protection
The VIOFO parking mode cable is 2 different part numbers. Furthermore, the HK3 is needed for the Viofo A129 Pro and the HK3-C is needed for the Viofo A139 Pro. Nevertheless, there is not much difference in terms of connections as you still need to hook up power, ground and ignition. Secondly, there is also a selector switch for low battery protection which is 11.8 volts, 12 volts, 12.2 volts, or 12.4 volts. This protects your battery from dying as a result of dash cam.
Thinkware you need to also hook up constant power, ground, and ignition. However, you can select low battery protection digitally through the Wi-Fi app.
Loop Recording
Viofo has flexible options of 1,2,3,5, or 10 minute video recordings. While the Thinkware has options of 1 minute video recordings. With Thinkware if there is any impacts while driving or parked it will do a separate 20 second video.
LCD Screen
Out of all three of these units the only one who has an LCD screen is the Viofo A129 Pro. The LCD screen allows you to easily go through the menus of dash camera and change settings. So if your not tech savvy and don't like smart phones then this is a good choice for you.
Cable Sizes
The A139 Pro has the smallest cable to go from the front to the back of the vehicle. So, if you are looking to run a wire from the front of your vehicle to the back the A139 Pro is half the size of other cables at just 2.8mm.
Pro's and Con's
Viofo A139 Pro
Pro's
High Dynamic Range
Supports up to a 256 GB micro SD card
Night Vision
New Sony STARVIS 2 image sensor
Best Dash Cam I have tested for picking up license plates
Small rear camera cable
Con's
1080p rear camera
File Organization could be better
Some phones you may need to turn off cellular data to pair via Wi-Fi app
Thinkware U1000
Pro's
2K rear camera
Energy Saving Mode
Red light and speed camera notifications
Con's
No High Dynamic Range
Max 128GB micro SD card
Talks too much
Viofo A129 Pro
Pro's
LCD screen
Supports up to 256 GB micro SD card
Smallest size of all 3 dash cams
Con's
No High Dynamic Range
1080p rear camera
Front camera not Sony STARVIS
File organization could be better
Some phones you may need to turn off cellular data to pair via Wi-Fi app
Best 4K Dash Cam
In short, all 3 of these dash cams round off some of the best 4k dash cam available on the market. However, if I was picking a unit strictly on video quality the Viofo A139 Pro is by far the best I have tested.